Dr. Robert "Bob" Eugene Cook, 91, passed away unexpectedly but comfortably in his sleep at home on Sunday, December 27, 2020, in San Diego, California. Bob was born August 23, 1929 in Frankfort, Indiana, the son of Clayton and Leota Cook. He married Patricia Jean McKinney on June 21, 1959, in Frankfort, Indiana. He is survived by his sons Bret McKinney Cook (Alice Cantwell) of Moorpark, California and Todd McClure Cook (Doris Cook) of San Diego, California, and affectionally known as Pop, his grandson Stafford McKinney Cook of San Luis Obispo, California. In addition, Bob is survived by Stafford's mother, Kyle Cook of San Luis Obispo, California. Bob is likewise survived by numerous extended family members throughout the United States who often shared their love, affection and fellowship in and with his life.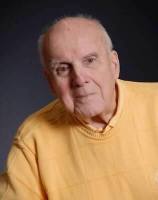 A veterinarian by profession, Bob graduated from Frankfort High School, Michigan State University, and shortly thereafter established his practice in Frankfort, Indiana. Later, Bob served in military service as a veterinarian in Soul, Korea during the Korean War. Following military service, Bob returned to private veterinary practice in Frankfort, Indiana, where he also exercised his entrepreneurship as owner of Cook's Ford Implement Dealership. Following his passion and call to science, Bob accepted recruitment with the United States Department of Agriculture (USDA) as a veterinarian and food safety specialist. During his extensive career with the USDA, along with multiple patented advancements, Bob was responsible for authoring many food safety policies and regulations that remain in existence today. He was a former member of the Frankfort School Board.
Bob was a member of Incarnation Lutheran Church (Poway, California) where he is well-known for his continued messaging of love and peace. Active in the church, he was a Vicar supporting church services while likewise supporting outreach ministry to those in need. Bob was a regular member of the church Men's Bible Study, and even found venue into the Women's Bible Study group.
Visitation will be 9-11 a.m. Saturday, August 7, 2021 at Goodwin Funeral Home, 200 S. Main St., Frankfort.  Funeral services will follow at 11 a.m. at the funeral home.   Following his wishes, Bob was be cremated and will be interred with his spouse in Bunnell Cemetery, Frankfort, Indiana. Per his wishes, the family requests any remembrances be made in Bob's name to Frankfort High School Scholarship Fund, c/o Frankfort Education Foundation, 2400 E. Wabash St., Frankfort, IN  46041.  Please visit goodwinfuneralhome.com, where you may share a personal message with the family.