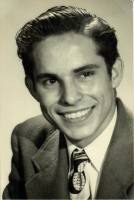 Elmer E. Posey Jr., 89, of Frankfort, passed away on June 24, 2021, at Riverview Health Hospital in Noblesville.   He was born on May 21, 1932, in Rankin, IL to Elmer E. and Gladys (Aaron) Posey. He married Gracie Trent on October 18, 1958; she preceded him in death on December 28, 2018.
Elmer was a 1950 graduate of Frankfort Senior High School.  After graduation, he enlisted in the U.S. Navy and served during the Korean war.  After his service in
the military, he worked for several years in Frankfort for Posey and Richards Motors.  He then worked for Sun Chemical for 20 years.  He was a member of the Kelley Crossing Church, VFW, American Legion, Eagles, and Moose.
Elmer had a passion for racing.  He enjoyed Indy Car, NASCAR, and was a mechanic for a midget race car driver.  He was also a winning demolition derby driver. Along with his love for cars, he enjoyed chocolate.
Elmer is survived by his children, Helen Marlene Faulkner (husband, Allen), Connie Sue D'Agostino (husband, Joe) of Florida, and Terry Posey (wife, Loretta) of Lebanon; brother, Dennis Posey (wife, Chris) of Frankfort; grandchildren, Debbie, Lacie, Kristi, Sandi, Aimee, Jessica, and Andrew, 26 great-grandchildren, and several great-great grandchildren; children from a previous marriage, Debbie Harter, Denise Howard, Jody Morton, and their grandchildren and great-grandchildren.
He was preceded in death by his parents; brother, Arnold; and sister, Marlene.
Visitation will be held from noon until the start of the funeral service at 2 p.m. on Sunday, June 27, 2021, at Genda Funeral Home in Frankfort. Burial will follow in Bunnell Cemetery.
Online condolences may be directed to www.gendafuneralhome.com.