Fairy Marcella Hackerd, 84, of Camden, Ind., ran into our Savior's arms on September 8, 2023.  She was born on March 4, 1939 in Frankfort to Claude "Tom" Steward and Grace L. (Edmonds) King.  She married Robert E. Hackerd in 1957 and they later divorced.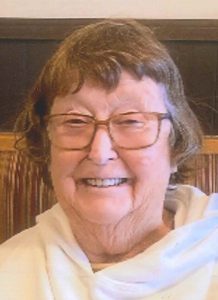 Fairy graduated in 1957 with honors from Frankfort Senior High School.  She worked for National Homes for 14 years and Frito Lay for 15 years, retiring on March 18, 1996.  Fairy was known around Carroll County as the "Mum Lady", selling chrysanthemums and produce for a dozen years.  She was a member of Woodside Christian Church and then Delphi Christian Church where she was active in the church choir.  Her love of her church family and teaching the youth led her to serve her churches by teaching Sunday School, leading youth group, and participating as a church camp counselor.  An avid reader herself, Fairy will soon be a published Christian book author.  She was a Cub Scout Den Mother and enjoyed cooking, gardening, and being outdoors, but above all her love of her faith and family stood strongest.
Surviving are her Son: Martin (Lorina) Hackerd of Frankfort and Daughter: Dawn (Michael) Davis of Camden.  She was preceded in death by her parents, sister: Melba Miller, and brothers: James and Harold Rimmer.
Friends may visit 4-8 p.m. Thursday, September 14, 2023 at
Goodwin Funeral Home
, 200 S. Main Street, Frankfort.  A Funeral Service will be held at 11 a.m. Friday, September 15, 2023 at the funeral home.  Burial will follow in Bunnell Cemetery, Frankfort.  In lieu of flowers, memorial donation may be made in Fairy's honor to the
American Humane Association
, 1400 16
th
 St. Northwest, Suite 360, Washington, DC 20036 or the
National Fibromyalgia Association
, 3857 Birch St., Suite 312, Newport Beach, CA 92660.  Please visit
goodwinfuneralhome.com
, where you may leave a condolence.