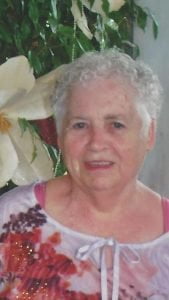 Francis N. Jenkins, 81, of Mulberry, passed away on Tuesday, November 14, 2017, at Mulberry Health.
She was born August 18, 1936, in Westmoreland, TN, to Lewis and Erma Lee Perry Saddler.  On November 28, 1953, Francis married Arnold C. Jenkins; he preceded her in death on February 18, 2005.
Throughout her life, Francis was a homemaker.  She loved her grandkids, enjoyed cooking, and was a huge Alan Jackson fan.
Surviving Francis are her children, Richard (Alice) Jenkins, of Speedwell, TN, and Sheila Jenkins and David Kent (Cathy) Jenkins, both of Rossville; three sisters, Wanda Sue Saddler, of Smyrna, TN, Peggy Maruggs, of Franklin, TN, and Annie Jane Graham, of Pioneer, TN; daughter-in-law, Jeana R. Scheurich; ten grandchildren, nine great-grandchildren, and one great-grandchild on the way.
In addition to her husband, Francis is preceded in death by her parents, two sons, Teddy and Terry, and daughter, Teresa.
Visitation will be held on Saturday, November 18, 2017, at Genda Funeral Home in Frankfort, from 2:00 p.m. to the start of the funeral service at 4:00 p.m.  Burial will follow in Middlefork Cemetery in Middlefork.  Online condolences may be directed to www.gendafuneralhome.com.