Southmont defeated Frankfort 60-7 Friday night by controlling the line of scrimmage on both offense and defense.
Frankfort's only score came late in the game when Quentcy Perry scored for the Hotdogs.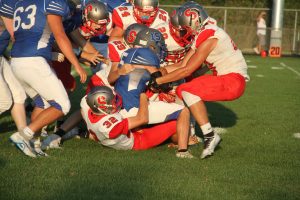 Friday was also "Puppy Power" night. This is always a fun night for the younger girls that dream of being a Cheerleader. The girls done a fine job of cheering as their Parents, Grandparents, and Fans were cheering them on.
Photos can be seen in links below