Gene Rice Crum, 91 of rural Frankfort, died at 4:48 a.m. Thursday, July 15, 2021 at Wesley Manor.  He was born May 26, 1930 in Michigantown, Ind. to Clarence R. & Harriet (Rice) Crum.  He married Margaret "Helen" Bullock on December 14, 1951 in Mulberry, Ind. and she preced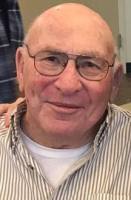 ed him in death on January 31, 2012.
Gene grew up in Clinton County and was an admired and respected farmer. He was known as a successful businessman, making many transactions with a handshake.   He and his mother started and ran one of the first nursing homes in Clinton County.  He was a veteran of the U.S. Army and a member of the Eastside Christian Church.  He was a loving and protective father and enjoyed being with his family. While living at Wesley Manor, he made many new friends with residents and staff alike. Gene will be remembered for his laugh, his quick wit and his smile.
He is survived by 3 Sons:  Larry G. (Jacki) Crum of rural Frankfort, Mark A. (Carol) Crum of rural Frankfort, Gary B. (Lisa) Crum of rural Frankfort, 1 Daughter:  Judy D. (Marc) Hodges of rural Frankfort, 9 Grandchildren:  Julia (Kurt) Foster of Kirklin, Chris (Dana) Crum of Lafayette, Carrie (Chad) Kyker of Lebanon, Corey (Morgan) Crum of Zionsville, Mason Crum of Frankfort, Austin (Taylor) Crum of Frankfort, Baylee (Brock) Neff of Frankfort, Colton Crum of Frankfort and Rylee Crum of Frankfort and 8 Great Grandchildren.
In addition to his parents and his spouse, he was preceded in death by several brothers and sisters.
Funeral Services:
 Visitation will be from 1-3 p.m. Sunday, July 18, 2021 at Goodwin Funeral Home, 200 S. Main St., Frankfort.  Funeral services will be 2:30 p.m. Monday, July 19, 2021 at the funeral home.  Burial will follow in Whiteman Cemetery.  If you cannot attend, the family would appreciate a card with a written memory. Memorial donations may be made to Wesley Manor Appreciation Fund or Clinton County Cancer Fund.  Please visit goodwinfuneralhome.com, where you may share a personal message with the family.