Boone County Sheriff Deputies were dispatched to Holiday Road Sunday night around 4:30 p.m. reference a bridge that had collapsed.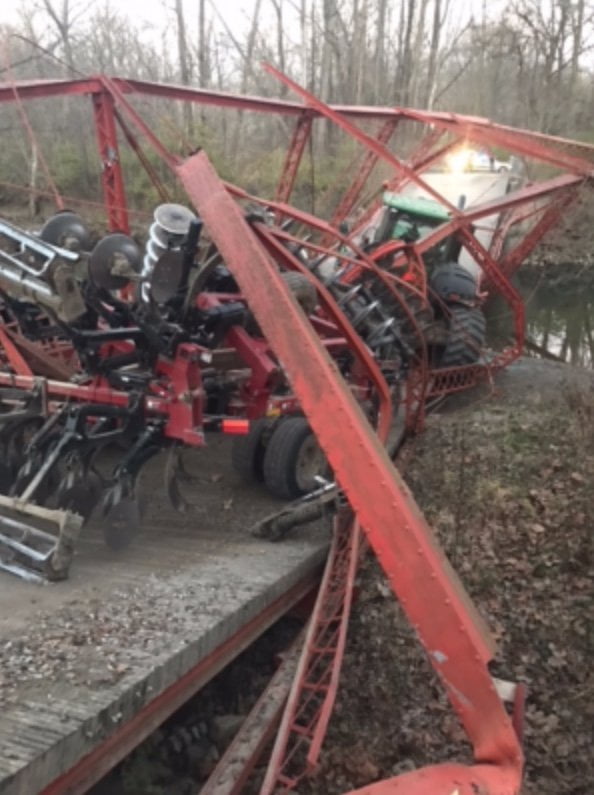 Deputy Rob Watson arrived and found a John Deere tractor and disc ripper attachment on top of the collapsed bridge. The driver of the tractor, Thomas Smith, 34, of Indianapolis, told Watson he didn't realize the attachment was wider than the bridge. Smith said about three quarters of the way across he noticed a top beam start to shake, and then the bridge collapsed. Mr. Smith was not injured and was able to escape the crash unharmed. Smith was cooperative and after a thorough investigation, was not found to have any signs of impairment. Alcohol and/or drugs are not a factor in this crash.
Brent Smith, owner of the farm equipment, was on scene and will be allowed to remove the tractor today, after the investigation is complete.
The Boone County Highway Department have put up barricades and closed off Holiday Road to through traffic. The Sheriff's Office will be providing 24 hour security on site until further notice.
This is the second major bridge damaged in Boone County from farm equipment. Sugar Creek Bridge in northern Boone County was damaged late last year and is still being investigated to find the driver. At this time, no one has come forward to claim responsibility for the multi-million dollar destruction. If you have any information regarding the Sugar Creek Bridge damage, please contact Detective Sam Scott at the Boone County Sheriff's Office 765-482-1412.