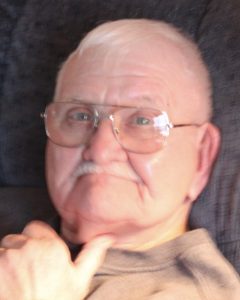 James "Jim" Allen Davis, 83, of Cutler, passed away Thursday February 9, 2023, at Indiana University Arnett Hospital in Lafayette, IN. He was born on July 12, 1939, in Kokomo, IN, the son of the late Alva and Mary (Miller) Davis. On February 15, 1958, he married Nancy O'Blenis, and she survives.
Jim was a 1958 graduate of Kokomo High School. He received extensive millwright training at Indiana Vocational Technical College. This training served him well in his career at Chrysler as a millwright until his retirement after 32 years of service. Jim was also employed at Cuneo Press, Ready Mix, Todd Seed, and was a courier for Bright National Bank. His top priority was his love and care for his family. He and his wife Nancy raised and sold angel fish with their business Angel Acres. They traveled to craft shows to display their beautiful stained glass creations. Jim was fascinated by John Deere Tractors, country western shows, and NASCAR. He was a member of the Masonic Lodge and was a Shriner. Some of his favorite activities were driving his golf cart to visit with family, mowing, and competing with his daughter-in-law for the best looking lawn. He loved long term camping and fishing at Big Fish Campground. He hosted a weekend fundraising event called Soda Fest, a fund for families of local sick and injured children.
He is survived by his loving wife, Nancy O'Blenis; son, Rex Allen (Sandy) Davis; daughter, Amy (William) Brown; grandchildren, Cherrie (Clint) Harris, Jamie Davis, Zachary Davis, Bailey Davis; great-grandchildren, Serenity, Harmony, Xander Allen, Ryder, Gage Rex, Jasper, Max, and Mackenzie.
He was preceded in death by his parents, Alva and Mary Davis; son, Tim Davis; daughter, Debra Davis.
Friends are invited to visit with the family from 10 am to Noon Saturday February 18, 2023, at Stout & Son Funeral Home – Neptune Chapel, 44 Michigan Street, Burlington, IN 46915. Funeral service will begin at Noon on Saturday at the funeral home. In honor of Jim's wishes, he requests casual attire worn for those in attendance. Burial will follow in Ball Hill Cemetery in Cutler. Messages of condolence may be left online at www.stoutandson.com.