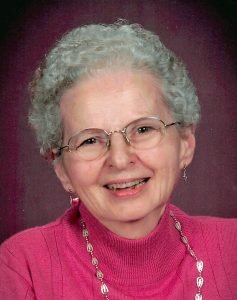 Jeanette L. Carlson Martin, 91, life-long Frankfort resident, passed away Friday, January 7, 2022, in Wesley Manor's Health Care Pavilion.  She was born January 6, 1931, in Elkhorn, WI, to Charles Dallas and Inga Leona (Olsen) Gunyon.  She married to Norman Carlson on November 24, 1948, and he preceded her in death on February 5, 1983.  She married Ernest "Rusty" Martin on June 24, 1994, and he preceded her in death on August 29, 1998.
Jeanette graduated from Frankfort High School in 1949.  She worked as a nurse's aide for 16 years and at Baptist Tot Center for 9 years.  Jeanette was a member of the First Baptist Church, sang in their choir, was a substitute Sunday School teacher, and also served as a deaconess.  She was a former member of Moose Lodge #7 and volunteered with a local hospice.
Jeanette is survived by three children, Janis Lynn Winkler, and Carol Ann (Lowrie "Dee") Harrison, son, Norman Lee (Cheri) Carlson, all of Frankfort; six grandchildren; 11 step-grandchildren; 17 great-grandchildren; 44 step-great-grandchildren; and three step great-great-grandchildren.
She is preceded in death by her parents; husbands; son, Stephen Lee Carlson; son-in-law, Buster Winkler; sister, Patricia Marley; and brothers, Donald D. and Charles D. Gunyon.
Private family services were held, with entombment in Green Lawn Mausoleum. Memorials in Jeanette's honor may be made to the First Baptist Church, Frankfort. Online condolences may be directed to www.gendafuneralhome.com.