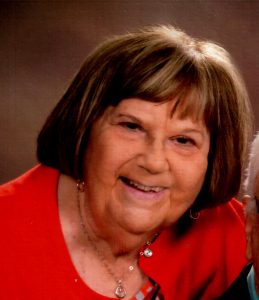 Joan Sloan McIntosh, 87, of Frankfort, passed away on Wednesday, December 29, 2021, at Wesley Manor.  She was born July 6, 1934, in Frankfort to Robert D. and Stella Opal (Sexton) Sloan.  She married James K. McIntosh on August 3, 1953, and he preceded her in death on February 20, 2019.
Joan graduated from Frankfort High School in 1952 and received a certificate from Indiana Business School.  She worked for Norfolk and Western Railroad for 25 years.  She was a member of St. Matthew United Methodist Church, Psi Iota Xi, Pink Lady Auxiliary, and a former member of the Moose Lodge #7.  Joan loved Blue Birds, spending time with family, and she and Jim enjoyed helping folks who were in need.
Joan is survived by two daughters, Marcia (Tom) Dickerson of Frankfort, and Lisa (Keith) Smith of Westfield; five grandchildren, Renee (Josh) Impson, Rebekah (David) Shaw, Andrew (Tracy) Smith, Alex Smith, and Caitlin (Preston) Stacy; nine great-grandchildren, Danielle, Lucien, London, Jackson, Allison, Madeline, Laethan, Parker, and James; and sister-in-law and best friend, Rose Austin.
She is preceded in death by her parents, husband, and brother, Robert Sloan.
Visitation will be Monday, January 3, 2022, beginning at 10:00 a.m. until the start of the funeral service at 12:00 noon at Genda Funeral Home ~ Frankfort, with Rev. Phillip Lake officiating.  Burial will follow at Green Lawn Cemetery.  Online condolences may be directed to www.gendafuneralhome.com.
Due to current health concerns, the family will understand if family and friends choose to not express their sympathy in person.  A live stream of the service will be available at www.gendafuneralhome.com for those who would like to join virtually.