Kay M.  Shupe, 92, of Frankfort, Ind. died peacefully with his family by his side on December 30, 2017 at I.U. Arnett Hospital.  He was born July 15, 1925 in Pittsburgh, PA to Bill and Jeanette (McNair) Shupe.  He married Anna Douglass on June 25, 1949 and she survives.Kay received his BS from Lafayette College, Easton, PA, he then received his Master's degree from Lehigh University, Bethlehem, PA and his MBA from Carnegie Tech, Pittsburgh, PA. After a long career as a Metallurgical Engineer in the steel industry, he and Anna retired to Wesley Manor in 1996.   He was a veteran of WWII, serving three years stateside in the U.S. Navy.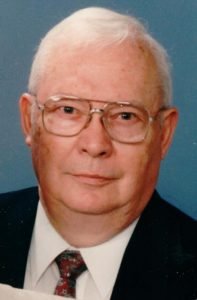 Family: Wife:  Anna Shupe of Frankfort, 1 Son:  Robert (Companion Shelley Gaudia) Shupe of Eugene, Oregon, 1 Daughter:  Susan Shupe of Lafayette, Ind., 1 Son-in-Law:  Matthew Stanley of Williamsport, Ind, 3 Grandchildren:  Anna (Jason) Westmoreland, Laura (Jeremy) Bass and Jeanette (Brian) Perry and 8 Great Grandchildren. He was preceded in death by a daughter JoAnn Stanley.
Services:
Memorial services for Kay will be held at a later date.  Goodwin Funeral Home of Frankfort is honored to assist the Shupe family.  In lieu of flowers, memorials may be made to the Samaritan Fund, c/o Wesley Manor, 1555 N. Main St., Frankfort, Ind.  Please visit goodwinfuneralhome.com, where you may share a personal message with the family.