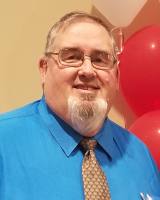 Larry Wayne Sharp
April 5, 1952 – July 3, 2021
Larry Wayne Sharp, 69, was born in Frankfort, Indiana, to Edward A. and Louise M. (Goff) Sharp. Formerly of Mulberry, Indiana, Larry and his family have lived in Bloomington for the last 40 years after moving here while working for the Bonded Oil Company. He also worked for 25 years in the automotive industry with MAGIC Autoglass and American Eagle Autoglass.
Larry spent over 20 years serving the Boy Scouts of America Hoosier Trails Council as a Friends of Scouting coordinator, Charter Representative, Assistant Scoutmaster serving Troop 136, and founder of Pack 136.
He had a great love for God, his family, this country, and the congregations of both Mt. Gilead Christian Church and Woodhaven Christian Church, all of whom greatly loved him. Larry served many years at Mt. Gilead and Woodhaven as an elder and board chair and immediately prior to his passing, served the congregation of Woodhaven as their pastor, delivering his final sermon on June 27.
Larry was an avid Indianapolis Colts football and Indiana Hoosiers football and basketball fan and worked one of the fastest moving concession windows at all IU home football games for almost 20 years.
Larry is survived by his wife Linda, his daughter Elizabeth "Elly", and his son Franklin "Chip" along with Chip's wife Brandi, her daughter Ellen "Ellie", and her son Brad. He is also survived by his sister Yvonne Morris, and brother Tom (Mary Jane) along with nieces and nephews too numerous to name.
He was preceded in death by his parents; brothers Maurice, Arthur, Jack, and Paul; and sisters Avonell Miller, Bonita, and Kimm.
There will be a memorial service on July 31 at Woodhaven Christian Church at 11am with visitation from 9 a.m. to 10:30 a.m. To honor Larry's wish that his life be celebrated and not mourned, we invite friends and family to gather at the Sharp home starting at 2pm to share some food, beverages, and your favorite memories.
The Funeral Chapel of Powell and Deckard in Bloomington is handling arrangements. Memories of Larry and condolences to the family may be shared at www.thefuneralchapel.net
In lieu of flowers the family asks that contribution be made in Larry's name to Woodhaven Christian Church or the Mt. Gilead Legacy Fund via the Foundation of the Christian Church (Disciples of Christ).