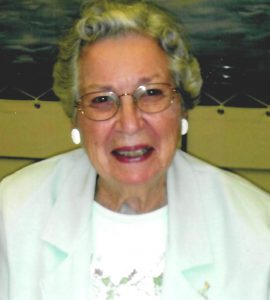 Mary Eleanor Hodgen, 96, recently of Wesley Manor and formerly of rural Frankfort, entered Heaven on Sunday, September 23, 2018. Eleanor was born Aug. 9, 1922, to Ralph and Madge Smith Stern. She attended Jackson Township schools where she met the love of her life, Noble Fee Hodgen. The couple married in 1940; to this union were born six children.
Eleanor and Noble were well known in Clinton County politics for many years. She was manager of the Clinton County License Bureau in the 1950's and 60's and later worked in the County Auditor's Office all the while raising the family on their farm. She went on to be Head of Housekeeping Department at Clinton County Hospital. Upon retirement, Eleanor served as a faithful volunteer at Rossville Milner Health Care Center. At age 69, she enrolled in the Lafayette Ivy Tech Nursing Program and two years later graduated with her degree which allowed her to return to Milner's to pursue her lifelong dream of working as a Licensed Practical Nurse.
Following retirement, Eleanor and Noble enjoyed hosting their grandchildren for "Cousins' Week" at "Hodgen Lake" several times over the years where summer fun and food were plentiful. The grandchildren are Greg, Scott, and Kyle Hodgen, and Becky Samples; Michele Ascher and Amy Jordan; Melissa Taylor and Noble Hodgen; Mark and Robb Minich and Angie May; Jake and Matt Parsons; and Chad, Evan, Haley, Lindsey and Lori Hodgen.
Eleanor was a 50+ year member of Owen Township Home Economics Club and a member of the Leisure Time Book Club. She was an avid gardener of fruits and vegetables and known for her wonderful pies. She was a lifelong Presbyterian, serving at the Geetingsville church as a Sunday School and Bible School Teacher, Choir Member and on the Board of Elders. She later moved her membership to Rossville Presbyterian Church, participating in activities as able. She was very proud to be a farm wife and especially proud of her children and grandchildren.  Eleanor was a faithful witness to the power of prayer and service to others. All in her family learned to be better people because of her living a life of Christian faith.
Eleanor was preceded in death by her parents; husband of 70 years, Noble; daughter, Marcia C. Parsons; son, Dr. Gary D. Hodgen; son, Jack R. Hodgen; infant grandson, Jordan C. Hodgen; daughter-in-law, Linda Hufford Hodgen; brother, Melvin Stern; and sister-in law, Helen Guffy Stern.
Surviving are her children: Ron Hodgen (Ellen), of Somerville, Alabama; Marilyn (Dave) Minich, of Flora; and Bill Hodgen (Sandy), of Wolcottville; son-in-law, Mark Parsons, of Lexington, KY; daughter-in-law, Phyllis Clendenning Hodgen, of Rossville, in addition to 35 great grandchildren.
Visitation will be held on Friday, September 28, 2018, at Rossville Presbyterian Church from 10:00 a.m. to the start of the funeral service at 12:00 p.m.  Chaplain Ken Rushing will officiate.  Burial will be held in Geetingsville Cemetery.  In lieu of flowers, the family requests memorials be given to Rossville Presbyterian Church, Disabled American Veterans, Wounded Warriors, or American Cancer Society.  Arrangements are entrusted to Genda Funeral Home Rossville Chapel with online condolences directed to www.gendafuneralhome.com.
Eleanor's family wishes to extend their heartfelt gratitude to both Wesley Manor Staff and Guardian Angel Hospice for their support, love, patience, and maintaining their mother's love of life and dignity to the end.