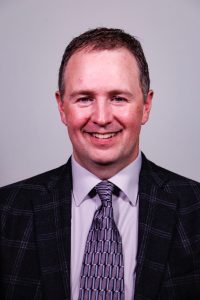 On Friday, October 6, manufacturers around the country will celebrate National Manufacturing Day, a day created to address common misperceptions about U.S. manufacturing. In conjunction with this year's Manufacturing Day, PepsiCo will announce its annual Circle of Champions, including two from Frankfort — Thoai Keeley and Brad Anglea
Keeley, a Packaging Lead at Frito-Lay in Frankfort, has given critical assistance throughout the region, helping the Beloit and Orlando facility with their PC slicers, while also supporting the HQ MOS team with flawless line setup at the Orlando, Fayetteville, Wooster, and Frankfort East plants, making him a 2017 Circle of Champions Winner.
Anglea, a Packaging Specialist at Frito-Lay in Frankfort, is credited with building capability among packaging Site Expert Trainers (SETs) and improving packaging machine operator (PMO) training, making him a 2017 Circle of Champions winner.
Award winners represent an elite group of supply chain associates from around the country who drive innovation and have demonstrated exceptional performance in safety, quality, service, cost, sustainability and people skills.
The following are bios for both individuals courtesy of Frito-Lay North America.
Keeley joined Frito-Lay in 1990. He is a packaging lead, based at the company's Frankfort, Indiana core manufacturing facility. During his first 12 years at Frito-Lay, he worked in potato chip processing where he advanced to the role of site expert trainer. He then progressed through various packaging roles, which eventually led to his current role as packaging lead. He is a high-performing packaging floor leader who also lends critical expertise to other sites in the region. He holds a Bachelor of Science degree in industrial technology from Purdue University in West Lafayette.
Anglea is a 25-year veteran of Frito-Lay. He currently works as a packaging specialist at Frito-Lay's Frankfort East manufacturing facility. Beyond consistently achieving high-level results for all of the site's packaging metrics, He is credited with building capability among packaging site expert trainers and improving packaging machine operator training. He also lead point in driving product seal integrity performance, which helps improve consumer satisfaction. His record of success has made him the "go to" lead for packaging guidance at the Frankfort East facility and across the country.
In his free time, Anglea is a church men's ministry leader. He also is a past youth football coach and referee. He served on the Community Schools of Frankfort Technology Team. He studied Criminal Justice at Vincennes University in Indiana.