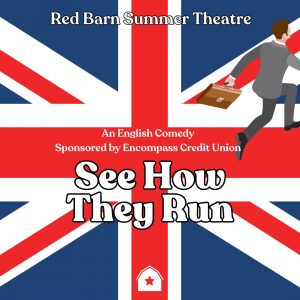 Frankfort's Red Barn Summer Theatre will open its 55th season with the classic English comedy "See How They Run" by Philip King, sponsored by Encompass Credit Union.
Set in an English vicarage just after the end of World War 2,  the play tells the rollicking tale of a very conservative English Bishop whose calm and sedate home is turned upside-down by the outlandish behavior of an American actor and actress, an Old Maid who has touched alcohol for the first time in her life, four suspicious characters all confusingly disguised as clergymen and a over-imaginative cockney maid who has seen too many American movies in her life. The non-stop action is hilariously hectic and side-splittingly funny.
The play opens on Wednesday, June 7 and runs Wednesday through Sunday for two weeks. Tickets are $20 for adults, $14 for students and are available on-line now at redbarntheatre.com.   Tickets may also be purchased by telephone at 765-659-1657, or in person at the Red Barn Box Office which is open Wednesday through Saturday from 5:00 to 9:00 and Sundays from 12-2, beginning June 1.
Opening night only Wednesday, June 7  will be special thanks to Goodwin and Archer Weston Funeral Homes.  The popular Indianapolis duo Dad Jeans (Joe Doyel and Joshua Bucy) will perform a blend of humor and nostalgia from 6:15-7:15 before the show.  After the performance souvenir show-themed cookies by Gina Vansickle and milk (or cold water for the lactose-intolerant) will be available  to each patron for the ride home.
Opening night, Fridays and Saturdays only the Cellar will be open for business featuring Beer, "Barn Box" snacks and a wonderful selection of wines from our partners at Blackhawk Winery of Sheridan.
Michael Taylor is the Artistic Director of the Red Barn Summer Theatre. The Red Barn Theatre was founded in 1973 by Martin and Carol Ann Henderson.