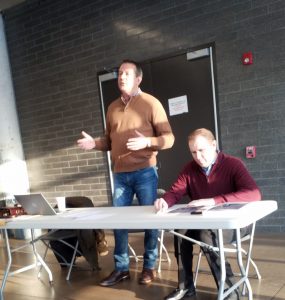 Approximately 40 people braved the cold, snowy and windy conditions to attend the Legislative Breakfast sponsored by the Clinton County Chamber of Commerce Saturday morning at the Prairie Creek Events Center in downtown Frankfort.
Two of the three legislators were present — State Senator Brian Buchanan and State Representative Mark Genda. State Representative Heath VanNatter did not attend.
Buchanan said there was between 1,000 and 1,100 bills total this session and there are still about 300-350 remaining. He and Genda both said they can't be 100 percent sure that a bill is totally dead. Both said bills have a tendency to come back in a different form because of the ideas that were in the original bill.
One bill that is definitely not dead is Senate Bill 3 which is paving the way for transformational tax reform in Indiana. SB 3 has passed the Senate unanimously. What exactly is SB 3?
Senate Republicans have identified eliminating the individual income tax as a way for Indiana to become a stronger competitor in attracting and retaining talent and businesses. It would from the State and Local Tax Review Commission to take a two-year study of the feasibility of ending Indiana's individual income tax and reforming property taxes.
"I would suspect it will pass the House in a similar format and form," said Buchanan. "What that bill does is set up a task force of legislators and other government officials and a lot of other stakeholders, business leaders, community leaders to really evaluate our current tax system here in Indiana."
Buchanan said they will focus on income tax and property taxes, but will also look at all other taxes.
Besides agreeing on a state budget for the next two years which will be over $40 million, both Buchanan and Genda said education and healthcare are going to be two hot button topics during the sessions.
This was the third of four sessions the Chamber has scheduled. The fourth and final breakfast will be held Saturday, April 15, at Wesley Manor beginning at 8:30 a.m.