Valenetta "Val" Jean (Phillips) Perkins, 78, of Frankfort, died June 26, 2019 at her home.  She was born November 16, 1940 in Hillisburg, Indiana to Clarence Edwards & Alice Alvaria (Cox) Phillips.  She married Frank Lewis Perkins on May 22, 1959 and he preceded her in death on May 28, 1990.
Val was a graduate of Scircleville High School and was a life long Clinton County resident.  She had worked at Sonoco Crellin and Federal Mogul until her retirement.  Val was a member of the Memorial Pa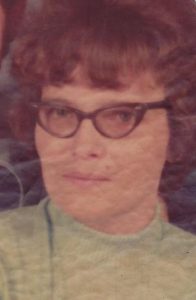 rkway Church of Christ.  She was a moderator for Gospel pages on Facebook, loved crocheting, reading, collecting angels and working in the yard.
Surviving family include: 2 daughters:  Jane (Dan Beckett) Perkins of Frankfort, and Debbie Perkins of Frankfort, 2 sons:  Frankie (Joy) Perkins Jr. of Frankfort and Danny (Deanna) Perkins of Frankfort, 2 sisters:  Clara Hill and Sue Ewing, Aunt: Dorothy Burt, 16 grandchildren, 29 great grandchildren and 1 great great granddaughter.
In addition to her husband and parents, preceded in death by a daughter, Barbara Ann, great granddaughter, Khaley Ann Perkins Crabtree, 2 brothers and 2 sisters.
Funeral Celebration:
 A funeral service celebrating Val's life will be held at 3 p.m. Tuesday, July 2, 2019 at Goodwin Funeral Home, 200 S. Main St., Frankfort.  Visitation will begin at 12 Noon prior to the service on Tuesday.  Burial will follow in Bunnell Cemetery.  Memorial donations may be made to Clinton County Cancer Fund.  Please visit goodwinfuneralhome.com, where you may share a personal message with the family.