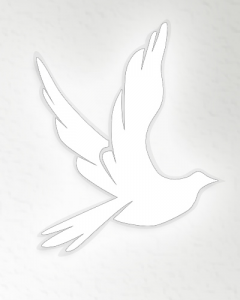 Dorothy Fay Metzger, daughter of Brother Elmer and Sister Mary (Yoder) Shively was born near Rossville, Indiana on September 13, 1933. She departed this life on November 24, 2021, at the age of 88 years, 2 months, and 11 days. She spent most of her life in Clinton County, Indiana. On October 14, 1951, she was baptized into the Old German Baptist Brethren Church. She was united in marriage with Daniel James Metzger on February 12, 1955; he preceded her in death on March 5, 2017. Their marriage was blessed with a son and six daughters.
Dorothy attended Rossville High School. She was a homemaker her entire life and a lifelong member of the Middle Fork Old German Baptist Brethren Church.
Mother left us many good examples with her quiet nature, dedication to her family, and contentment with the simple joys of life.
Surviving are her five children, Carolyn Metzger of Rossville, Dianne (husband, David) Kessler of Carroll County, Janice (husband, John) Miller of Dark County, Ohio, Sharon (husband, Karl) Wolf of Hillsboro, Wisconsin, Nina (husband, Anthony) Ganger of Goshen, Indiana; daughter-in-law, Marlene (husband, Marlin) Hege of Waynesboro, Pennsylvania; also survived by 20 grandchildren and 51 great-grandchildren;
Dorothy is also survived by two brothers, Jesse (wife, Shirley) Shively of Franklin, Indiana and Kenneth (wife, Patty) Shively of LaPorte, Indiana; three sisters, Marie Blocher Baker of Rossville, Doris (husband, Glen) Callaway of North Manchester, Indiana, and Leona Skiles of Rossville; in-laws, Evelyn Sarver of Rossville, Warren Shuck of Baldwin, Kansas, David Metzger of Rossville, Eva (husband, Melvin) Mohler of Rossville, and Robert (wife, Maxine) Metzger of Mulberry; as well as many nephews, nieces, and friends.
In addition to her husband, she is preceded in death by her parents; one son, Melvin; one daughter, Neva; father and mother-in-law, Jesse and Merle Metzger; three brothers, Clarence Shively, Glen Shively, and Alvin Shively; one sister, Elsie Shuck; and in-laws, Esther Shively, Roberta Shively, John Sarver, Walter Blocher, Art Baker, Meredith Skiles, and Shirley Metzger.
A visitation will be held Saturday, November 27 from 5:00 p.m. until 8:00 p.m. at Middle Fork Old German Baptist Brethren Church. The funeral service will be Sunday, November 28 at 2:00 p.m. at the church with Home Brethren officiating. Burial will follow in Middle Fork Old German Baptist Church Cemetery.
Genda Funeral Home ~ Rossville Chapel is entrusted with the arrangements.
The family would like to thank all who have assisted in the time of Mother's illness and death.