"Every situation is different" said Wayne Williams speaking at the Frankfort Rotary Club at Arborwood Thursday September 19.
"Some farmers have debt, some no debt, some cash rent, some own" he said.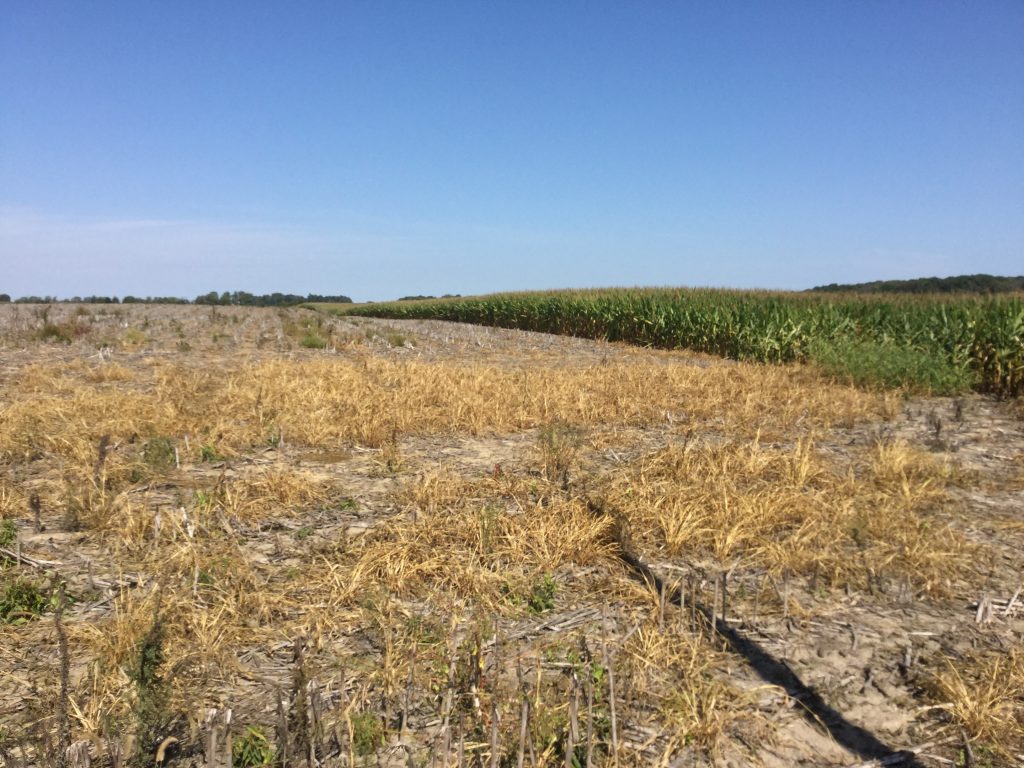 It is not unusual for some farmers to get the idea that every year is going to be good and they will always get the best yield. The bad years will come. This is a bad year.
"1974 was worse" said Williams.  Almost no planting in 1974 could start until June 6 of that year and frost came in late September. Plus in 1974 there was no rain in July and August.
2019 gets a "double whammy" because of tariffs on China and the bad planting conditions this year are localized enough to keep market prices low. "There are a lot of corn and beans out there" said Williams.   At the elevator beans are about 8.60 and corn is about 3.70.
"It is hard to read yields from a car" said Williams. "Farmers will tell you it is bad. There is good corn out there. Maybe (some yields are) 225 or better.  In a normal year, "60, 70 and 80 bushels per acre beans are normal."  Williams thinks there may be a lot of 35-40 bushel bean fields in Clinton County but said we "just don't know yet."
Wayne Williams is also concerned about the lasting impact of the tariff situation.  Williams recalled the embargo President Carter put on grain.  The market effect lasted a long time. It took a long time to recover because buyers found different suppliers during the embargo.  Still, Williams was a little surprised that the Chinese are not buying more U.S. grain now because even with the embargo, U.S. grain is cheaper than many alternatives.
How much will the government step in and help the farmers?  The USDA Market Facilitation Program has helped support market prices and there may also be some additional help coming in the form of extra compensation above existing crop insurance payouts.  Listen to WILO for more details on this emerging story.
Most farmers do have the crop insurance which probably cost them about $30 to $40 dollars per acre.  There are some farmers who opted out of purchasing crop insurance and this may be a very challenging time for those operations.  An unplanted field will probably receive about $300.00 per acre if that field did have crop insurance. Some crop insurance policies gave a yield guarantee and some gave a gross revenue guarantee.  Either way, the farmer will almost certainly receive less than normal.
If a farmer has a $600,000 combine and a $400,000 tractor in the barn, if the equipment is not paid for, the farmer still has to make payments with interest on that equipment.
The challenge of unplanted land also may involve cash flow problems if land is cash rented and not owned and paid for. Some  land owners may work with the farmer on cash rent and some may not, Williams said.
Every situation is different. One thing that seems certain. 2019 may go into the history books as being one of the most challenging years in a lifetime.
Looking into the future, Williams said millions of dollars are being spent researching the impact of climate change as it impacts farmers.  "There may be alternative feeds for hogs" that can be raised in Indiana.
WILO and WSHW is dedicated to keeping the farming community informed on a daily basis with popular programs like Agri-talk on WILO AM 1570 and FM 96.9 at 11:00 AM weekdays and Hoosier Ag Today and Brownfield Network features and programs.  Additionally Melissa Miller connects with the Agriculture Community and Ag Youth Programs to keep you informed in an ever-changing world.
According to USDA Farm Service Agency story dated August 12, 2019:
WASHINGTON, Aug. 12, 2019 – Agricultural producers reported they were not able to plant crops on more than 19.4 million acres in 2019, according to a new report released by the U.S. Department of Agriculture (USDA). This marks the most prevented plant acres reported since USDA's Farm Service Agency (FSA) began releasing the report in 2007 and 17.49 million acres more than reported at this time last year.
Of those prevented plant acres, more than 73 percent were in 12 Midwestern states, where heavy rainfall and flooding this year has prevented many producers from planting mostly corn, soybeans and wheat.
"Agricultural producers across the country are facing significant challenges and tough decisions on their farms and ranches," USDA Under Secretary for Farm Production and Conservation Bill Northey said. "We know these are challenging times for farmers, and we have worked to improve flexibility of our programs to assist producers prevented from planting."