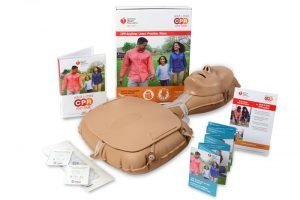 Social restrictions and safety precautions intended to slow the spread of COVID-19 have greatly impacted the ability of local organizations to hold CPR training. The American Heart Association is taking steps to ensure that community CPR training continues by providing CPR Anytime® Kits to the Frankfort Fire Department. These kits allow individuals to learn basic lifesaving skills in about 20 minutes in their home or workplace. The CPR Anytime® kits are also portable, which makes them easy to share.
The 149 Adult & Child CPR Anytime® Kits donated to the Frankfort Fire Department from the American Heart Association are available to any local community groups, caregivers, schools, or individuals who want to learn CPR but do not need a CPR course completion card.
Fire Chief John Kirby is grateful that Frankfort Fire Department has been given this opportunity to share CPR kits and information saying, "About 70% of out-of-hospital cardiac arrests occur in a private or residential setting. Only about 46% of these people receive the immediate help that they need before professional help arrives. We believe these CPR kits will help more people in our community learn how to react quickly and capably in times of emergency."
Assistant Chief Ed Cripe adds, "During this national health crisis, there is a greater possibility that individuals with chest pains may wait longer to call 911 or request emergency care. By learning CPR skills and sharing the kit with family and friends, community members can be better prepared to save a life."
The CPR Anytime® Kits contain Adult CPR, Child CPR, Adult and Child choking relief, and AED Awareness. These kits will be kept at Frankfort Fire Department Headquarters, 201 S. Clay Street, and can be obtained by contacting the Fire Department administration office at (765) 654-4329.