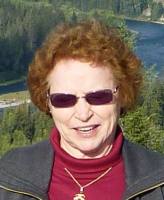 Mary J. Henschen, 77, of rural Rossville, passed away on Saturday, August 14, 2021, at IU Arnett Hospital in Lafayette. She was born in Indianapolis on November 13, 1943, to Bluford Keaton and Mildred L. (Joerendt) Patterson.  She married Carl D. Henschen on September 10, 1977; he survives.
Mary was a graduate of Manual High School in Indianapolis. Besides her family, Mary's greatest love in life was nature. She was a passionate birder and enjoyed hiking and nature photography. In the late 70's and early 80's, Mary worked at the Nature Center in Eagle Creek Park in Indianapolis. There, she shared her enthusiasm and expertise with school groups and adults while leading nature walks. She traveled extensively in the United States, visiting state and national parks, and recreation areas in all fifty states with her husband.
She loved talking and interacting with people. For a decade or so, she was a serious crafter, selling custom ceramics and jewelry at town gatherings and fairs throughout central Indiana. In later years, she especially enjoyed socializing and exercising with the Aqua Pals group in Lafayette and loved playing cards and board games with this group and with her family.
Illness slowed her some in recent years, but she still loved flower gardening around her home and visiting with friends and family, mostly by phone. We will miss her chatter and good cheer.
Mary is survived by husband of forty-four years, Carl of Rossville; brothers, Robert Patterson of Stilesville, IN, Richard Patterson and Larry Patterson of Indianapolis, and James Patterson of Greenwood; sisters, Dorothy Patterson of Dearborn Heights, MI, Millie Patterson and Helen Swanson of Flint, MI, Virginia Neuberger of Herrington, KS, and Delia Bernauer of St. Louis, MO.
She is preceded in death by her parents.
A Celebration of Life Gathering will be held from 2 to 6 pm on Sunday, August 22, 2021, at Genda Funeral Home~Rossville Chapel, 460 N. State Road 39, Rossville, IN.  For everyone's safety, the family is requesting that all visitors please wear a mask.
Memorial donations in Mary's honor may be made to The Nature Conservancy, Attn: Treasury, 4245 N. Fairfax Drive, Suite 100, Arlington, VA  22203 or https://www.nature.org/en-us/membership-and-giving/donate-to-our-mission/.
Online condolences may be directed to www.gendafuneralhome.com.