Twenty-three students from the Frankfort and Lafayette Crossing schools participated in the winter graduation at the First Church of the Nazarene in Frankfort today.
For many students they did not think this day would come.
The mission of the Crossing is to empower struggling students to become contributing members of their communities through academics, job training, and faith-based character education.
As heard in the students' speeches, this mission is being accomplished. One student recently started at Lincoln Tech while another was just accepted to Ivy Tech. Others shared of full-time employment at NHK, Donaldsons, McCulloms, and Co-Alliance. Finally, many mentioned career fields that they plan to pursue, such as nursing, cosmetology, or business.
"What makes a Crossing graduation so special is hearing each student share about their growth as an individual and their future plans. Family members and friends stand right in front of their graduate and cheer them on, while teachers are behind marveling at what God has done in each of their lives" says Marissa Mills (Frankfort Site Leader).
Susan Kaspar (Frankfort Board President) welcomed parents, students, and staff to the ceremony and then Natalie Green (Lafayette graduate) led the Pledge, followed by Jaeden Faulkner (Frankfort graduate) with an opening prayer.
The keynote speaker was Dr Chuck Dietzen from Kirklin who has become a regular volunteer at the Crossing. He asked the graduates how they plan to make the world a better place.
Regional Coordinator, Cole Warford, certified the students as graduates right before diplomas were handed out and speeches were made. The ceremony concluded with Philippians 4:4-9 and the song 'My Wish' by Rascal Flatts.
Special thanks to all of the local schools who partner with the Crossing and to the Nazarene Church for hosting the event.
Interested in volunteering at the Crossing? Have questions about enrollment? Contact Marissa Mills at 402-770-7337 or mmills@crossingcec.com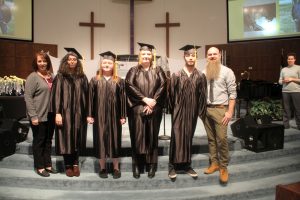 Photos by Patty Keaton Parks can be seen by clicking on the links below.