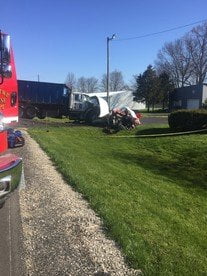 At approximately 8:21 a.m. Sunday, officers from the Indiana State Police and the Wabash County Sheriff's Department responded to a two vehicle crash, on State Road 15 near Wabash County Road 1100 South, in which three people died.
The preliminary crash investigation by Trooper A.J. Coffee revealed that Terissa Williams, 19, Peru, IN was driving a 2015 Dodge Dart northbound on State Road 15 near Wabash County Road 1100 South. For an undetermined reason, the Dodge crossed the center line and struck, head-on, a southbound 2005 Mack garbage truck driven by Gwendolyn Taylor, 54, Wabash, IN. It took firefighting personnel approximately an hour and a half to extricate the occupants of the Dodge.
Taylor was transported, via ambulance, to a Ft Wayne hospital with a complaint of back pain. Williams and her passengers, Kaleb Marin, 21, and Thomas Reed, 21, both from Marion, IN were pronounced dead at the crash scene.
Taylor was driving for Wabash Valley Refuse Removal.
Marin is a suspect in the April 25, 2018 murder of Jordon Richards, 22. Richards was shot and killed in his Lafontaine home. Evidence indicates that multiple firearms and United States currency were stolen from the residence. One of the stolen guns was found inside the Dodge that was involved in today's crash. Marin had an active Wabash County arrest warrant for Richards' murder and robbery. The warrant was issued Friday.
The crash and Richards' murder are still under investigation. No further information will be released at this time.