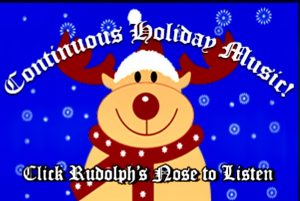 Christmas can be a magical time of year.
Our lives trek through high points and low, but music has a way to make it all better…through good times and bad.
Shine 99 and Kaspar Media celebrate sounds of the season with a special channel for you! You are invited to click on it anytime and you will have your own "soundtrack" for the season.
Together with family and friends or alone in your car click on Rudolph's Nose for commercial free, 100% beautiful Christmas Music.
Beautiful Christmas Music on Shine 99's ALL-Christmas station is powered by:
Coca-Cola in Kokomo

I Mechanic

Indiana Heartland Federal Credit Union

White Lillies in Paradise

Howard County Recycling

Ashley Home Furnishings

Encompass Credit Union