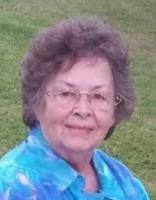 Betty Jo Howe, 81, of Frankfort, passed away on Thursday, August 12, 2021, at her home. She was born in Frankfort on March 29, 1940, to Shirley Andrew and Mary Grace (Hampton) Howe.  She married Gerald Luther Howe on August 1, 1958; he preceded her in death on July 10, 2002.
A lifelong resident of Frankfort, Betty graduated in 1957 from Kirklin High School. She had been a member of the Old Oxford Missionary Baptist Church of rural Lafayette. She was homemaker who enjoyed spending time with her family and grandchildren, loved her dogs and enjoyed going for drives. Betty had worked for Carr Cabinet Factory and Burger Chef in Frankfort for several years.
Betty is survived by children, Carol Ann Harrison (Larry), Mark A. Howe (Becky), and Matthew W. Howe (Jody) all of Frankfort; brother, Richard Howe (Marge) of Frankfort; daughter-in-law, Melissa Howe; sister-in-law, Janice Howe of Frankfort and brother-in-law, Phil Parker of West Lafayette, eight grandchildren and 17 great-grandchildren.
In addition to her husband, Gerald, she is preceded in death by her parents; son, Michael Howe; granddaughter, Lindsey Howe; great granddaughter, Avery Ayers; brother, Sam Howe; and sisters, Carolyn Wall and Diane Parker.
Visitation will be held on Tuesday August 17, 2021, from 3 p.m. until the start of the funeral service at 5 p.m. at Genda Funeral Home in Frankfort. Daniel Howe and Larry Harrison will officiate.  Burial will follow in Bunnell Cemetery in Frankfort.
Memorial donations in Betty's honor may be made to the Clinton County Humane Society  PO Box 455  Frankfort, IN  46041.
Online condolences may be directed to www.gendafuneralhome.com.