October-crisp fall air, turning leaves and a starry fall night with an early sunset sets the stage at Camp Cullom to show off the beauty of heaven and earth.
What better time is there to have an annual public open house and Chili Supper at Camp Cullom? The open house was held Saturday October 16 with good weather and good times for all.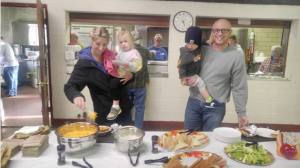 Camp Cullom (Clinton County Foundation for Youth) is a 90 acre camp with an air-conditioned Nature Center, Lodge, 3 ponds, a meandering stream, 13 acre stand of blue stem prairie grass, woodlands and meadows, a rich supply of native birds, plants, insects and wildlife. Camp Cullom is home to one of the largest Astronomical Observatories in the State of Indiana and has a world-class disc golf course with several bridges and stairs built just for the popular course.
Camp Cullom each year holds a Chili Supper and Open House to celebrate this time of year and raise some funds to help the camp. Saturday from 4:30 to 7:00 hikers, families and friends of Camp Cullom enjoyed Chili, Frito-Lay products, peanut butter sandwiches, hot dogs, s'mores and brownies before taking a Wagon Ride through the Camp with Ranger Hoppy Bray.
After dusk Prairie Grass Observatory opened up and focused on the waxing gibbous moon, Saturn and Jupiter. Observatory trustees Andy Schilling and Russ Kaspar also showed off the Observatory collection of meteorites, including a small piece of moon rock and Mars rock.
Camp Cullom is a 501 C-3 United Way agency and owned by the children of Clinton County.
Erick Dircks captured some special moments at this special place for you to enjoy:
Pictures of Camp Cullom Open House: CLICK HERE
Facebook Users: CLICK HERE