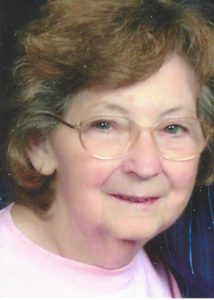 Doris I. Burkhalter, 85, of Lafayette, passed away Thursday, March 29, 2018 at her residence.  She was born June 27, 1932 in Pyrmont to Hughel & Ruth (Reames) Miller.  Doris graduated from Rossville High School in 1950.  In November 1950, she married the late Harold Burkhalter; he preceded her in death September 13, 2002.
Doris worked for Landis and Gyr in Lafayette as an inspector for over 30 years.  She was a member of Pyrmont United Methodist Church and enjoyed sewing, counted cross-stitch, and flower and vegetable gardening.
Doris is survived by her children, Kevin (Carolyn) Burkhalter, of Delphi, and Debbie (Chet) Peacock, of Lafayette; grandchildren, Scott (Que) Curvin, Carrie (Steve) Bates, Shawn Peacock, and Trevis (Lisa) Peacock; great grandchildren, Khayla, Taylor, Austin, Peighton, Karson, Lindsey, Hunter, Chianne, Ashley, and Giovanni; and great-great grandchildren, Cameron, Jaxson, Kayden, Kayin, and Aaliyah.
Along with her parents and husband, she was preceded in death by two brothers and two sisters.
Funeral services will be held at 11:00 a.m. on Wednesday, April 4, 2018, at Genda Funeral Home Rossville Chapel with Pastor Dan Gottschall officiating.  Burial will follow at Tippecanoe Memory Gardens in Lafayette.  Visitation will be held from 4:00 to 7:00 p.m. on Tuesday, April 3, 2018, at the funeral home.  Memorial contributions may be made to the Alzheimer's Association.  Online condolences may be made at www.gendafuneralhome.com.