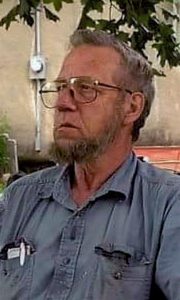 Floyd Eugene Wolf, 70, of Frankfort, passed away on Saturday, January 27, 2018, at his home. He was born September 9, 1947, in Lebanon, to Levi Albert and Dorothy (Knoe) Wolf. On July 3, 1972, he married Penny Joan Niccum; she preceded him in death on March 23, 2008.
Gene attended Lebanon High School. He served his country in the United States Army. Gene enjoyed woodworking, fishing, farming, raising pheasant and quail, and love watching wrestling on T.V.   He had worked for Smurfit Container for 37 years in Frankfort.
Gene is survived by his sons,Wesley (Meshelle) Wolf, of Kentucky, and Wayland "Joe" (Lisa) Wolf, of Frankfort; daughters, Peggy Lynn Wooten, of Frankfort, and  Belissa Watson, of Pennisicola, Fla.; brother, Leroy Wolf of Woodstock, Ill.; nine grandchildren, Alex, Doug, Mandy, Michael, Sarah, Ashlyn, Jocelyn, Jacklyn, and Madalyn ; and eight great-grandchildren, Ariel, Logan, Luke, Raylee, Finnegan, Thalia, Abigail, and Nova.
In addition to his wife, Gene is preceded in death by his parents, sisters, Minnie, Rose, Irma, and Alpha; and brothers, Charles, Maurice, John, James and Harry.
Visitation will be held from 11:00 a.m. on Wednesday, January 31, 2018, at Genda Funeral Home in Frankfort to the start of the funeral service at 1:00 p.m. . Burial will follow in Bunnell Cemetery with military honors.  Donations in memory of Gene may be made to help the family defray funeral costs .   Online condolences may be directed to www.gendafuneralhome.com.