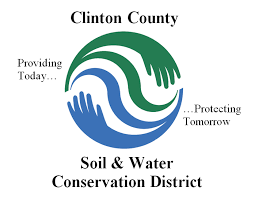 Please join the Soil and Water Conservation District and the South Fork Wildcat Stewardship Initiative on Monday, June 3 beginning at 6:30 p.m. in the Skanta Theatre at the Frankfort Public Library to hear a special presentation by Cassie Hauswald, Freshwater Ecologist, The Nature Conservancy.
Ever wonder what animals live in your local rivers and streams?  From freshwater mussels, to dazzling darters to damselflies, you may be surprised to know about the diversity of life beneath the surface of the South Fork of Wildcat Creek.  Join us for an evening of discovery with Cassie Hauswald, a freshwater ecologist with The Nature Conservancy.  As part of their work to improve habitat for plants, animals and people, she is focusing on a project to measure water quality improvements in tributaries of the Upper Wabash River, including the South Fork of Wildcat Creek, using freshwater mussels.
Freshwater mussels disappeared from Indiana during a time when water quality was degrading and collection of these animals for their shells was still prevalent.  After the Clean Water Act was revised in 1972, water quality began to improve in Indiana.  However, when an animal's population is so reduced that it cannot reproduce, there is little that can be done to reverse the decline, no matter how much habitat we conserve.  The Nature Conservancy believes many habitats would now support freshwater mussels if there were a way to give them a jump start on recolonization.
Filtering over 15 gallons of a water a day, imagine how nature's engineers could help us clean our water if we can bring them back to a sustainable level.  With support from the Duke Energy Foundation, and in partnership with the Indiana Department of Natural Resources, the South Fork of the Wildcat Creek may soon welcome back kidneyshell mussels.  Cassie will talk about efforts underway in Indiana to augment our freshwater mussel populations so they can continue to help us as we help them.
The guest presentation coincides with the Wildcat Creek Art contest.  More than fifty art entries have been submitted featuring the recreational and scenic beauty of the Wildcat Creek.   Artwork will be judged based on votes from those visiting the Anna and Harland Hubbard Gallery at the Frankfort Public Library where artwork will be on display June 3-17.