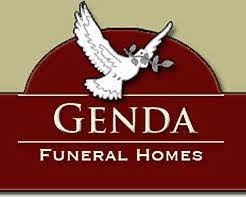 Genda Funeral Home is excited to welcome a new four-legged employee to their ranks.
Norm, a fully-trained grief therapy dog, joined the Genda team last week before the Thanksgiving holiday. Upon his arrival, the staff took part in a multi-day training session that involved learning about his many skills as well as how to best handle him as a part of the team.
Ultimate Canine out of Westfield, Indiana were the proud trainers of Norm. They have been training and equipping individuals and organizations of all sizes and styles for 27 years with service dogs for a variety of purposes. As a certified training facility, they worked with Norm to allow him to develop a special set of skills to help aid in the grief that often comes with being at a funeral facility. Four individuals on the Genda team have received a certificate for being a handler for Norm, but he will spend the majority of his time with Pat Day, owner of Genda Funeral Home.
"This was a big decision for us as a team, but we ultimately felt like offering Norm as a therapeutic and comforting presence at Genda was something we believed in," shared Pat Day, owner of Genda Funeral Home. "We look forward to offering this unique service to our many customers and their families. Norm has already become a delightful part of our team, and will be appearing as a face of Genda in the community in a variety of ways moving forward."
Norm will be making community appearances very soon, and we encourage you to follow us on social media to learn more about him and his many upcoming adventures.
Genda Funeral Home, a subsidiary of Day Funeral Services, operates in Frankfort, Mulberry, Flora, and Rossville providing family-first funeral services. More information can be available at gendafuneralhome.com or by giving their team a call at 765.659.3356.