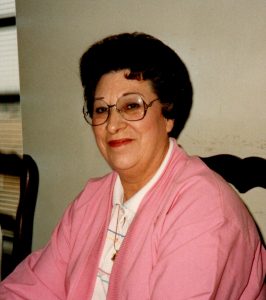 Irene Lucille Russell, 91, of Frankfort, passed away on Wednesday, December 11, 2019, at her home.  She was born July 23, 1928, in Hammond, to Arthur M. and Rozella (Bushman) Kennedy.  On September 3, 1948, Irene married Kenneth Russell; he preceded her in death on January 22, 2002.
After attending Frankfort schools, Irene was self-employed as a private duty aide for over 15 years.  She worked at Jules Simon, Clinton House, and Wesley Manor.  She enjoyed bowling, bingo, playing cards, going to the YMCA, and spending time with her family.
Surviving Irene is one grandson, Gordon Royer; and one great-grandson, Dakota Scott Royer.
In addition to her husband, Irene is preceded in death by her parents, daughter, Joyce Ann Royer; sons, John J. Russell and Dale Eugene Russell; three brothers, Melvin Kennedy, Harold McBee, and Arthur Kennedy; and one sister, Dorothy Sexton.
Visitation will be held on Saturday, December 14, 2019 at Genda Funeral Home in Frankfort from 10:00 a.m. to 1:00 p.m.  Burial will follow at Hopewell Cemetery.
Memorials in Irene's name may be made to Clinton County Cancer.
Online condolences may be directed to www.gendafuneralhome.com.