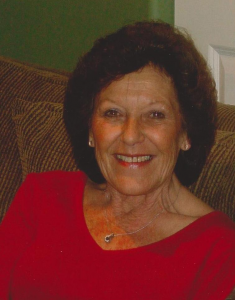 Juanita Lynn West, age 67, of Kirklin, passed away on Tuesday afternoon, June 4, 2019 surrounded by her loving family at St. Vincent 86th Street Hospital in Indianapolis.  She was born in Lebanon, Indiana on November 9, 1951 and was a 1970 graduate of Sheridan High School.  She later earned her associate degree from Indiana Business College.
Juanita's first job after getting married was with the Indiana State Board of Health.  She stayed with them for a few years, but she never liked how much time it took away from her family.  When the time was right, she left her job with the state and dedicated her time to raising her family.  As far as Juanita was concerned, it was the best career move she could ever make.  She took advantage of every moment she was able to spend with her growing family.  Juanita cleaned houses for many of the farm families around their area to earn a little extra spending money.  When she felt the kids were old enough, Juanita went to work for Indiana Farmer's Insurance and retired from the company after many years as their Jack of all trades.
Taking care of people was second nature to Juanita.  In addition to raising her family, she was constantly checking in on her neighbors, not to mention feeding almost every bird that came near her property.  It didn't stop with the birds either – she was in charge of feeding the whole family.  She seemed to be able to do it all; from cooking, to baking (especially her famous butterhorns), to kicking everyone else off the grill and appointing herself the family grill master.  Taking care of everyone didn't stop at home, Juanita was blessed to be able to spend 12 years as a teacher's aide at Clinton Central Elementary School
Juanita had a knack for sewing, especially on her old black Singer machine.  She also enjoyed working outdoors in her garden and reading whenever she had the chance.  Juanita was a dedicated IU basketball and Indianapolis Colts fan, even during the lean years.  She was also a faithful listener to the American Family radio program, not to mention being a Fox News super fan.  If you could be awarded that title, Juanita would have been the person to beat.
Juanita is survived by the love of her life, Phillip Ragan West.  She and Phillip were married on September 10, 1971.  Also surviving are her mother, Betty Jane (Mossburg) Egler; her son, Brant Ragan West (Paige) of Lebanon; 2 daughters, Michelle Lynn Ramsey (Brett) of Reynolds, Indiana, and Mindi Lee Cheek (Travis) of Frankfort; 11 grandchildren, Braedon Ramsey, Broderick Ramsey, Arianna Ramsey, Kyleigh Bolinger, Hayley Bolinger, Brayden Bolinger, Trace Cheek, Raigan Cheek, Kynlee Cheek, Trenton Cheek, and Lauren West; and by her brother, Gerald "Butch" Kirby of Ekin.
She was preceded in death by her father; 1 brother, Ronald Kirby of Ekin; and by her granddaughter, Morgan West.
Services will be held at 7:00 PM on Sunday, June 9, 2019 at Kercheval Funeral Home, 306 East 10th Street, Sheridan, Indiana, with visitation from 4:00 PM until the time of service.  Reverend James Thurston will be officiating.  Juanita will be laid to rest at a later date at Crown View Cemetery in Sheridan.