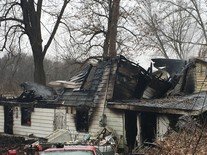 Yesterday a house fire at 4317 Pottawatomie Point Road, Logansport, has resulted in the deaths of six people ranging in age from three months to 42 years.
Yesterday at approximately 1:49 a.m., a 911 call to the Cass County Dispatch Center reported a burning home at 4317 Pottawatomie Point Road, rural Logansport, The caller reported that there were possibly multiple people trapped inside. Two Cass County Sheriff's Deputies were the first to arrive at the home and found the two story house engulfed in flames. Despite the police officers attempts to reach those inside, they were prohibited from doing so by the intense smoke and fire. Officers did encounter an adult male and an adult female who had allegedly escaped the fire. The pair was transported, by ambulance, to Logansport Memorial Hospital with non-life threatening injuries. One of the deputies suffered from smoke inhalation, but refused medical treatment at the scene.
Multiple fire departments arrived on scene to battle the fire, cold temperatures, and lack of on scene access to water. Firefighters had to truck in water from a Logansport hydrant when their tanker trucks ran dry. After the fire was extinguished, fire personnel began the pain staking task of combing through the burnt-out home looking for the bodies of the deceased.
During their search, firefighters recovered six bodies, two adults and four children. The adults were Joseph Huddleston 42, and Brandi Vail, 25. The children found were three girls Kadee Huddleston 10, Swayzee Hite, 3, and Rhylie Hite,1, and a boy three month old Marshall Hite. The youngest kids are the children of the Brandi Vail. Kadee Huddleston is the daughter of Joseph Huddleston.
The two adults that escaped the fire were Sheila Huddleston, 43, and Brandon Huddleston, 19. Sheila is Joseph Huddleston's wife and Brandon is his son.
An update is listed below:
Investigators have completed an inspection of the entire burned out home and debris. There is no evidence indicating the fire was intentionally set. Major appliances, such as the stove and water heater have been ruled out as sources of ignition. There is some evidence indicating the fire could have been caused by an electrical issue, but due to the destruction caused by the fire, the cause remains as undetermined.
There were no working smoke detectors inside the home.
This is an active investigation led by the Cass County Sheriff's Department.