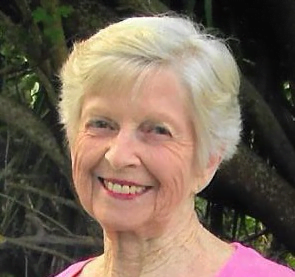 Oma Hawkins Hildebrandt, of Ormond Beach, Florida, passed away on December 5, 2017 at Signature Health Care of Ormond Beach.  She was born on May 7, 1928 in Frankfort, Indiana to Charles and Cora (Gangwer) Hawkins. She graduated from Frankfort High School in 1946. She married Robert Ayers in 1947, and they later divorced. On June 21, 1978, she married Robert Hildebrandt, who survives. She was a member of the First United Methodist Church of Ormond Beach.
Oma was a creative, kind woman who had many talents and work experiences. In addition to secretarial and clerical jobs, she applied her amazing creativity to entrepreneurial ventures with her husband. Most recently, they operated "This Board's For You", a business in which they created name boards. Oma was responsible for the artistic side of the company. She spent many hours hand-decorating letters, customizing them to ensure the recipient ended up with a unique and individualized board.  Oma's artistic ability enabled Bob and her to participate in many arts and crafts shows throughout the Midwest and south.
Oma's many friends and family will attest to her mischievous sense of humor and her willingness to help whenever and wherever she could. She will be genuinely missed by all who loved her.
In addition to her husband, she is survived by one daughter, Pam (Jack) Ayers-Petrilli of Mississauga, Ontario; three sons: Ken Ayers and Mike Ayers of Indianapolis and Rob Ayers of Denver; and one stepson, Alan (Pat) Hildebrandt of Coral Springs, Florida. Her grandchildren include Julie Stevens and Cathy (Dave) Rigdon of Dallas; Chad (Ann Galloway) Nay, Chip Ayers, and Stephanie (Nick) Abisi of Indianapolis; Jessica (Jarrett Sullivan) Ayers of North Hollywood, California; Megan (Seth) Stulgis of Washington, DC; Natalie Ayers, Scott Ayers and Kelly Hildebrandt of Denver; Nicole Hildebrandt of Coral Springs, Fl; and Stephanie Hildebrandt of Phoenix.  Twelve grandchildren survive along with 5 great grandchildren, a sister-in-law, Hjordis Hawkins, of Denver, two nieces, two great-nieces and a great-nephew.  Her parents and her brother, Keith Hawkins, preceded her in death.
A memorial service was held at Volusia Memorial Funeral Home on Ormond Beach on December 8.