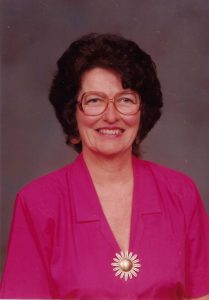 Rosanna Andrews Robaska Fowler, age 90, of Frankfort, Indiana and Munster, Indiana passed away on November 18, 2023.
Born in Hammond, Indiana on August 20, 1933, to Florence (Andrews) and Phil Robaska (step-mother Mildred Robaska), she was married to Charles Fowler (deceased) from 1955-1971.
Rosanna graduated salutatorian from Hammond High School in 1951.  She went on to study Sociology/ Psychology (major) and Business (minor) at Lake Forest College, Lake Forest, Illinois earning a bachelor's degree in 1955 and later a master's degree in Education, Counseling and Support Services from Purdue University, 1980.
She worked for the Hammond Indiana School District for over 30 years serving as an attendance officer, social worker, Project Coordinator for the Hammond Area Career Center, and Coordinator of the Comprehensive Program for Pregnant Teens.  Rosanna also worked part time for many years at Demaree's Colonial Furniture and Clockmasters in Dyer, Indiana.
In addition to working full time for many years, Rosanna was an active member of her church – Hyde Park United Methodist and Woodmar United Methodist.  She sang in the choir nearly her entire life. During the pandemic, Rosanna helped form an online prayer group that met nightly and continues to this day.
She was an active volunteer serving in various roles as president, board member and committee member of the following organizations: Hammond Junior Women's Club, Public Broadcasting (walked door to door to raise money for PBS in the "Region"), Habitat for Humanity, Campagna Academy, Woodmar United Methodist Church, Lakeshore Community Concert series and the Lake County Retired Teachers Association to name a few.
She indulged her children, Florence and Joe, in their hobbies of art & music, and was always supportive of their efforts.  She loved spending time with her grandchildren and great grandchildren and has wonderful memories of holiday gatherings with everyone laughing, eating, and enjoying time together.  She sent thousands of greeting cards to family and friends for every occasion.
She loved to travel and saw the world with many friends and family.  She was a great friend and caregiver to many over the years, and her friendship, assistance and caring will not be forgotten.
Rosanna is survived by a sister, Katherine Robaska Clark (Russell); brother, Gordon Robaska (June – deceased); daughter, Florence Caddell (Bill – deceased); son, Joe Fowler; grandchildren: Brad Burdine (Andrea); Gary Burdine; step grandchildren: Elizabeth Chenoweth (Paul); Michael Caddell (Emily Dringenberg); great grandchildren: Gemma Burdine, Miles Burdine; step great grandchildren: Cameron Chenoweth, Edie Caddell, Everley Caddell and many wonderful nieces and nephews.
The family is grateful for the loving care and kindness provided to Rosanna and her family by Wesley Manor.
Memorials may be made to: Woodmar United Methodist Church, 7320 Northcote Ave, Hammond, IN 46324; Campagna Academy, 7403 S Cline Ave, Schererville, IN 46375; Habitat for Humanity, 3777 N Colfax St, Gary, IN 46408; or a charity of your choice.
Memorial visitation will be  Saturday, November 25 from 10am until the start of the memorial service at 11am at the Amanda Reid Chapel at Wesley Manor in Frankfort, IN with Chaplain Deborah Musick Klemme officiating. Additional memorial services will be on Sunday, November 26 with visitation starting at 1pm until the start of the memorial service at 2pm at Woodmar United Methodist Church, 7320 Northcote Ave, Hammond, IN 46324 with Pastor Pete Ward officiating.
Those who wish to express condolences to the family may also do so at dayandgenda.com.