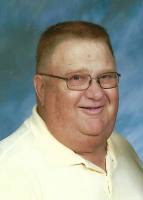 Stanley W. Bull, 82, of Lafayette, passed away on Sunday, August 8, 2021 at Franciscan Health East in Lafayette.  He was born in Lafayette, Indiana on November 30, 1938 to Wilson and Oreal (Williamson) Bull.  He married Carol A. Brown in Battle Ground  on July 18, 1965; she preceded him in death on July 12, 2013.
Stanley was a graduate of Dayton High School then served with the National Guard. He was a lifetime farmer in Clinton and Tippecanoe County. Stanley enjoyed Purdue Basketball, cowboy and western movies, Sudoku puzzles, tractors, and tinkering in his shop. Stanley and his wife use to have a store front in Mulberry where they made homemade candies and fudge. Making homemade ice cream was something he enjoyed doing with the family, especially his grandkids. He was a member of the Dayton Memorial Presbyterian Church and enjoyed singing with the Ambassadors in Lafayette.
Surviving are his children, Jeff (Dawn) Bull of Dayton and Cindy (Robert) Suter of Lafayette; sister, Harriett (Ron) Berry of Dayton; and grandchildren, Brandon Bull, Aaron Bull, and Molly (John) Childers.
In addition to his wife, he is preceded in death by his parents and a brother, David Bull.
Visitation will be from 10 a.m. until the start of the funeral service at 12 noon on Friday, August 13, 2021, at the Dayton Memorial Presbyterian Church 731 Walnut St, Dayton, IN 47941 with Pastor Ron Kelley officiating.  Burial will follow in the Dayton Cemetery.
Memorial contributions in Stanley's honor may be made to Dayton Memorial Presbyterian Church 731 Walnut St, Dayton, IN 47941 or the Alzheimer's Association 50 E. 91st St.-#100 Indianapolis, IN  46209-4830.
Online condolences may be directed to www.gendafuneralhome.com.