The former Marsh/Kroger building at 2021 E. Wabash Street is under study by the Clinton County Chamber of Commerce, Clinton County School leadership, Mayor Judy Sheets, City and County Government, PIP board and others for establishing a possible "Tech Center" to provide practical courses for all Clinton County schools.
The former supermarket location has 33,000 square feet under roof on 5.6 acres. The original asking price for the building and land was 2.4 million, making the project unworkable. A price reduction, private funding, City and County help and public/private grants and creative financing may now bring the project to fruition.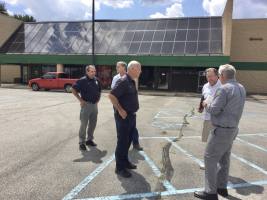 The building could be used for collective and collaborative training for HVAC, Welding, Robotics, Plumbing, Construction and Building Trades, Electrical, Fire fighting, Pipefitting, Service Technology, possibly even Drone piloting courses.
The Clinton County Tech Center has been under study by Frankfort Mayor Judy Sheets, City and County Government officials and Clinton County School leadership. This project is endorsed by area high schools in part, because of the change coming in 2024 to Indiana Education requirements, according to Clinton County Chamber of Commerce CEO Shan Sheridan.
New Indiana Education requirements will establish Graduation Pathways including career readiness benchmark options as well as traditional established College pathways. Federally recognized apprenticeship programs and Career-Technical Education Concentrator programs will soon be changing the landscape in secondary education in Indiana. A Clinton County Tech Center may be able to help all Clinton County schools address this change.
If the former Marsh/Kroger facility is to be used for a "Tech Center", an inventory of the building and estimated conversion costs need to be evaluated. The Chamber of Commerce is in the process getting input from commercial contractors on feasibility and cost.
If you drove by the building Tuesday and saw a fire snorkel truck on site, it was to allow County and City Building Inspectors access to the roof to evaluate health of the building. Problems and leaks clearly exist with the building and roof, but for now, these problems can likely be addressed to convert the structure to a tech center for student use.
This hands-on learning center will be primarily for secondary education and prepare students for continued study with IVY tech, a career or continued technical training elsewhere.
The project will require continued co-operation among City, County officials and Private funding sources with support of the Community if the "Clinton County Tech Center" is to become a reality, Sheridan said.
The core purpose of the tech center would be for secondary training and eduction toward a diploma, however an additional interesting use of the Tech Center building square footage might also include a separate "Discovery Museum" area for children. This area would house fun interactive displays about dentistry, radio and TV broadcasting, 3-D printing, ambulance driving, microscopes, decommissioned airplane display and other interactive vocational displays. Harrisonburg, Virginia (population 53,273) has a well established and popular explore museum founded by a retired school teacher that encourages engaging interaction toward various occupation possibilities for the younger kids. CLICK LINK
For Examples of Explore Museum Vocational Exhibits for kids at Harrisonburg, VA CLICK HERE