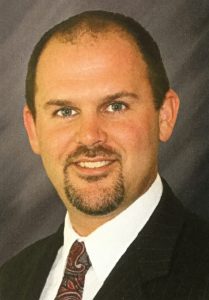 The Indiana Chapter of the National Association of Water Companies recently named State Rep. Heath VanNatter (R-Kokomo) its 2017 Legislator of the Year.
The association cites VanNatter's efforts to address water issues throughout Indiana and his work to promote legislative policies that provide Hoosier residents and businesses with high-quality and reliable water and wastewater services.
"Indiana's water resources are an invaluable asset for each and every community within the state," VanNatter said. "I believe it's essential to work toward sound policies that develop and secure current and future clean water services for Hoosiers. We've made a lot of great progress over the last few years, and I hope to continue building on that to provide more benefits for Indiana residents."
In the 2017 session, VanNatter authored legislation laying the foundation for the prioritization and responsible expansion of clean water sources across the state. The law permits water lines to extend into development zones, which could attract new business and increase economic growth in Indiana. The policy also allows water utilities to replace lead service lines and establish customer assistance programs for low-income individuals with approval from the Indiana Utility Regulatory Commission.
"Representative VanNatter has been a strong proponent for the people in advancing state policy that helps all of us in the water industry to better serve Indiana residents," said Deborah Dewey, president of Indiana American Water. "Access to clean, reliable and affordable water services is an important part of the quality of life and economic success we enjoy as a state, and we applaud Representative VanNatter and the Indiana legislature for their efforts to make sure our water resources and infrastructure are meeting the needs of communities all across the state."