Jerry Lee Morrison, 85,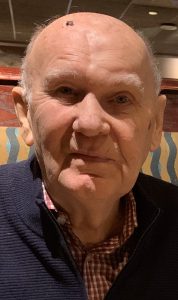 a Frankfort resident, died August 31, 2023 at Hendricks Regional Health, Danville, Ind.  He was born on April 26, 1938 in Frankfort, Ind. to Paul B. Morrison and Thelma (Moudy) Morrison.  He married Darcy Carr DeWeese on December 10, 1969 and she preceded him in death on September 23, 2022.
Jerry attended Frankfort High School and later received his GED while in the service. He proudly served his country as a veteran of the US Marines, from 1958 – 1963. He worked as a Civil Service employee and was a typist for the VA in Indianapolis.  His memberships include; Blinded Veteran's Association, Disabled American Veterans, Masonic Lodge, and the First Baptist Church in Lebanon, Indiana. Jerry was an avid pool player.
He is survived by 3 Daughters:  Debbie Hahn of Saluda, NC, Dania Ann Remaly of Lafayette, IN, Darilyn (James) Siwek of Saluda, NC, 2 Sons:   Wayne (Cathy) Fairburn of Pittsboro, Drew Morrison of Tucson, AZ, 12 Grandchildren and 13 Great-Grandchildren. He was preceded by parents, son Dean Fairburn, sisters Susan Gagynon, Bonnie Seward, Marilyn Irby and brother Richard Morrison.
 Funeral Services:
Visitation will be 9:30-11 a.m. September 11, 2023 at Goodwin Funeral Home, 200 S. Main St., Frankfort. Funeral services will begin at 11 a.m. at the funeral home. Burial will be in Bunnell Cemetery.  Memorial donations may be made to the Disabled American Veterans.  Please visit goodwinfuneralhome.com, where you may leave a condolence.