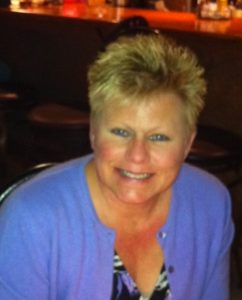 Sarah Margaret Porter, of Westfield and formerly of Frankfort, died peacefully at home on Thursday, September 7, 2023.
She was born November 16, 1959, in Burlington, Vermont, the daughter of Robert and Margaret Bracken.
Sarah grew up in Frankfort, Indiana, and graduated from Frankfort Senior High School in 1978. She continued her education at Ivy Tech where she received her Medical Assistant Certification. After spending many years working in the clinical setting, Sarah became the friendly face of Frankfort Middle School. She spent many summers coaching the "8 and under" of the Frankfort Swim Club. Additionally, she coached coed swimming, diving, and girls' basketball. Sarah spent many years developing and creating middle school yearbooks, as well as many hours planning middle school social events. She continued in this position for 25 years before she retired as the long-time school treasurer and administrative assistant to the principal and vice principal.
On October 6, 1979, she married the love of her life and high school sweetheart, Brett W. Porter. Megan completed their family on April 2, 1981. On January 9, 2010, she received the amazing and delicate gift of a pancreas transplant. After a lifetime of Type I Diabetes since the age of 4, she was no longer dependent upon insulin.
Following her 2016 retirement, Brett and Sarah relocated to Westfield, Indiana where they built their first home together. In 2021 Sarah connected with her biological family through a DNA test. While some reconnections have a level of worry regarding compatibility, Sarah's connection with her biological family was instantaneous. The DeLancey Family had always held space for Sarah, and the new connection was full of unconditional love and acceptance.
Sarah enjoyed spending time creating crafts of many kinds, sewing, flower arranging, and decorating. She was the "Jill" of all creative ideas. She loved to bake and was known for making "big bottom" cakes for anyone who felt like celebrating. Sarah's home was always open for entertaining and hosting friends and neighbors. She enjoyed taking trips to Las Vegas and had an affinity for slot machines. She loved gardening and always had beautiful flowers surrounding her home during all four seasons. She loved the water and was the neighborhood swim instructor. Sarah loved animals, especially her K9 babies, Gus and Gertie, and her grand pups, Birdie and Palma. Sarah affectionately called herself "Nana" to these fur babies.
Surviving Sarah is her husband of 44 years, Brett Porter of Westfield, her daughter Megan Porter of Indianapolis, her brother Robert Bracken (George) of Palm Springs, California; her Uncle Jerry DeLancey (Claire) of Castleton, Vermont; ln-Laws Chuck Toney (Donna) of Frankfort, Tim Porter (Lucy) of Burlington, IN,  Jim Michael (Linda) Frankfort, Pete Porter (Judy) Frankfort, Gary McCarty (Lori) Frankfort, Gary McCoy (Mary) Morristown, IN and numerous nieces, nephews, and cousins.
She is preceded in death by both parents.
There will be a Celebration of Life on Sunday, September 24, 2023, at 51 West located at 51 West Clinton Street, Frankfort, Indiana, 46041 from 2:00 – 5:00 pm. There will be a short service at 2:00 p.m. followed by a mix-and-mingle to celebrate the beautiful life of Sarah. Day & Genda Funeral Home is assisting with the arrangments.
Memorials in Sarah's name can be made to the following: Paw Pals of Clinton County, Eskenazi Health Foundation Palliative Care (please select "Other" and write: Palliative Care), Hamilton County Humane Society