1/4/23
It's hard to believe Todd has been here for almost 4 years!
On top of having a good grasp of the spoken word, Todd also enjoys writing. Enjoy one of his stories on how we cam up with the concept of "The Box From The Attic" below.
Enjoy–Kevin Keith Director of Operations, Kaspar Media
A repeat from almost three years ago, explaining more in depth about THE BOX FROM THE ATTIC. 🙂
#LPsForFifty (The BOX FROM THE ATTIC Trilogy Edition, Part 1) Album No. 4 MAD DOGS AND ENGLISHMEN Joe Cocker (1970, A&M, vinyl)
With a nod to WILO operations manager Kevin Keith
In the present age, I have a morning show feature, THE BOX FROM THE ATTIC, that runs just after the 8 o'clock news on our radio station. People hear it and think that the box is a handy little metaphor for digging into an archive, whether it's one that belongs to the station, or more personal.
However, it's far from a metaphor. I couldn't come up with one that good on my own, some transitional hallway to a mind palace, like Mr. Rogers sending the trolley through the tunnel into the Neighborhood of Make Believe. No, the BOX FROM THE ATTIC is a title that calls back to a couple of very distinct, very real boxes: the box is literal, and so is the attic.
The one in this story was materialized into my life in 1975. One of my great-aunts, whose own musical interest amounted to country all sorts and the occasional bit of polka when she was feeling a little daring, had held this box of vintage mid-1960s to early 1970s music for quite a while, and it was mostly pop and rock and soul, with the occasional jazz album or such thrown in for a bit of leavening. I ended up being the beneficiary, thanks to a relative that left those albums in the house in storage, with the eventual intent of recovery. Somewhere along the line, my great-aunt was asked to dispose of them due to some sort of religious conversion or other, because "all these styles are the DEVIL'S MUSIC," you know.
Within that box, gifted some late night before a drive back to my hometown of Columbus, Indiana, lay a treasure trove that informed a large number of my musical adventures thereafter. We ourselves would soon be making a move elsewhere, to a little house outside Traverse City, Michigan, and the box ended up being a tie to home, and many beloved people we had to leave behind, for a while.
The next handful of albums to be featured in #LPsForFifty will all be drawn from this box, as that is how huge an impact it had. That box made such a deep impression that I can still remember the first three albums in sequence in the front of it even now: Joe Cocker's MAD DOGS AND ENGLISHMEN, and two Dionne Warwick albums, HERE I AM and ANYONE WHO HAD A HEART. Finding some early perfectionist/librarian streak at age five, I decided to tackle the albums in the box in order, so the Joe Cocker albums got listened to first.
Well, I SAY a perfectionist/librarian streak was the motivator. Probably the REAL influence was to go to MAD DOGS AND ENGLISHMEN because it was the first two-record set that I'd ever seen, and the implications of the longer form caught my imagination immediately, after one of my younger aunts explained what a double album WAS.
So, finally having set up our rooms in Michigan, I put the first side on my little Arvin record player. I recall that I found it interesting enough to continue listening, although I also remember bogging down during Joe's interpretation of "Bird on a Wire" – not out of any early aversion to Leonard Cohen, however. Ballads were tricky for me at age five, because life itself at that age tends to be uptempo in general. 🙂 It was even more tricky as I had a few years to go before I got to my "Dylan appreciation phase," which is to say that certain distinctive vocal styles were hard sledding. And Joe Cocker was nothing if not distinctive.
When I came back around to the album the next day, I had pulled out a portable suitcase and opened it up, in order to pretend that I was leading a band from a grand piano. The vocalist might have been hard for me to understand, but the music was more appreciated. The same ballad thing was problematic for me – then – through all four sides. (Side 3's "Blue Medley" was so hard for me to absorb that I don't think I listened to it again until I was in third grade.)
Although this set did not get the same amount of stylus time as many of the others in that box, in some ways it plotted a course into other forms of rock, a certain musical loose-limbedness that I would later appreciate in the Grateful Dead and the Meters, and gave me a doorway into the Rolling Stones, through those magnificent horns. And in those horns, and the rhythm section, were musicians that were about to become renowned in their own right, if they weren't already: saxophonist Bobby Keys had already contributed to the Rolling Stones' LET IT BLEED, trumpet player Jim Price would join him as part of the Stones' horn section from STICKY FINGERS onward, and bassist Carl Radle and drummer Jim Gordon would soon help out Eric Clapton in Derek and the Dominos. Add in Rita Coolidge as a vocalist in the "choir" (and her solo turn on "Superstar"), session drumming legend Jim Keltner and Leon Russell on guitar and keyboards, and you had the makings of a super group behind Cocker.
This album pointed me in a lot of eventual directions, some of which took decades to become obvious, or resolve, and I may not listen to this one album as much in the present age as I have various descendant albums inspired by its hearing. But it's like a variation of that line about the Velvet Underground, that everyone who did hear the started a band? Same here, sort of – the influence of this one double album cast a wide net into other places I would explore more elaborately over the years. It's not an exaggeration to say that I might never have gotten to EXILE ON MAIN ST. or AMERICAN BEAUTY or HIGHWAY 61 REVISITED or SONGS FROM A ROOM or even LAYLA AND OTHER ASSORTED LOVE SONGS, and by proxy many extensions of same, for which I will always be thankful.
My original brown label A&M pressing had caught much play and wear early on, to a point that spinning it after, say, the mid-1990s was an exercise in fortitude on several levels. And it meant that it didn't, COULDN'T, get the stylus time it should have, either as a refresher course, or for the sake of nostalgia. So,when a mid-1970s reissue turned up in an alley record store in Austin, Texas in 2012, I snapped it right up, so I could finally retire my original.
Since then, over eight years, I MAY have played it a half-dozen times at most. Not for lack of love, but simply because I don't really NEED to anymore. That soup of over a dozen musicians and singers is something I'm constantly immersed in, whether I'm physically listening to it and recharging the battery or not, and listening to other albums that it got me to has much the same result. It's the warm feeling against so many musical snowdrifts, and that's enough.
Hi!
Todd Berryman here, and I'm super excited to be the morning guy on WILO Radio! I hope you enjoy our show, and that you'll bookmark this page for extra goodies from the show, random notes, and stuff we couldn't fit in on the radio.
---
A Little About Me …
I'm an Indiana native, born in Columbus in 1970. Aside from two years in Michigan (1975 to 1977) and another two in Colorado (1978 to 1979), I've been an Indiana resident all my life.
I started in radio in 1988 doing news, began my DJ career the next month by spinning jazz, and I've worked in a multitude of radio formats ever since, including morning shows in Bloomington-Indianapolis and Columbus.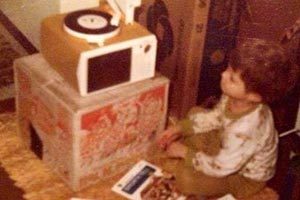 I wanted to be a DJ when I was 4 years old, but it became much more apparent when I got a radio with a microphone at age 7.
My favorite movies include Madadayo (directed by Akira Kurosawa), Hopscotch (starring Walter Matthau and Glenda Jackson), and The Godfather.
Among my favorite books: Blue Highways by William Least Heat-Moon; the collected works of Robert Fulghum (especially Uh-Oh and Maybe, Maybe Not); and Drowning in the Sea of Love: Musical Memoirs by Al Young.
Favorite foods include macaroni and cheese, tacos, and crab rangoon.
Hobbies: going to museums, record collecting, and recording/audio transfer work. In other words, yes, I still make mix tapes.