What are the top 80 news stories for Clinton County in 2022? We want you to decide which stories below are the "Top 10" Clinton County stories for 2022.

Kaspar Media presents this 'Year in Review' with our top 80 news story list and a video by Erick Dircks and Patty Keaton Parks. We look back on this pivotal year in Clinton County History.
Wampler Services, Inc. sponsors this year's "Clinton County 2022 Year in Review"
To prepare this report, Clinton County Daily News and WILO Radio analyzed which news stories had the most "traffic" or "views". This data helped us put together this 2022 report. No doubt we missed some key events.
No doubt you may have stories to add to this list. We would love to hear about other key events we missed in the comment section below.
Enjoy this list of "Top 80 Stories in 2022 for Clinton County".
We will discuss on Party Line what YOU think the Top 10 on this list should be. Party line is hosted by Kaspar Media Director of Operations Kevin Keith and can be heard every weekday morning at 8:30 on WILO 96.9, 102.7 and 1570. Russ Kaspar would like to thank Liz DeRosa for helping brainstorm this list.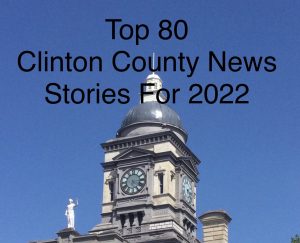 TOP 80 Stories in No Particular Order. You Decide what are the top 10 stories and let us know on Party Line.
Most stories are linked to the Clinton County Daily News Article if you want more information.
Indiana 28 project through Frankfort completed
Aquatic Center Construction begins. Groundbreaking held April 1, 2022
Police station Construction begins.
New Automated Trash Pick Up System Implemented in Frankfort
Sherriff Kelly Re-Elected After Facing Legal Battle Link 2
38/39 bridge construction completed
State Road 26 Open to 29 East of Rossville
Culver's Restaurant approved and construction started at 28 and Hot Dog Avenue
IU Frankfort Hospital Project Finally Completed, including landscaping
Mitch Daniels resigns from Purdue University
180 Recovery Center Ribbon Cutting February 24
Leroy Good, Jack Schied, Mo Morrison, Bill Kern, Jane Clark and other community leaders die
$300,000,000 Hardy Hills Solar Project construction starts near Kilmore
'Festival of Lights' opens at TPA park, celebrating its 30th year anniversary, with over 1 million lights
Frankfort and Clinton Central School Superintendents replace retiring predecessors
Clinton County Health Department stops testing for COVID-19
County to Tear Down and Rebuild Annex
Clinton County YMCA Has New CEO, Will Rebrand in 2023. No longer "YMCA". Becomes CORE Community Center.
IU Health to help with Tech Center. Grant Secured by United Way for Clinton County
Middle School Construction Project Details Finalized
Clinton County Commissioners Approve 5 Million Dollar spending of ARPA Funds
Frankfort City Council Approves Three Projects with Readi Grant Funds
All Four County Superintendents Unified for Tech Center
Carroll County Has Plan for Industrial Park
Timmons Resigns, Jake Myers Resigns, Dana Myers Retires
Broadband Coming to Michigantown and Flora
Clinton Central Begins Renovation Project
Riggs Medial Center Has Ribbon Cutting
FHS Junior Heads to International Science Fair
Frankfort Fire Department Constructs New Training Center
WILO/Kaspar Media Opens New Radio Station in Lebanon
Mark Genda Sworn in as State Representative
Genda Funeral Home Under New Ownership
Ed Moskovitz at Arni's Hangs It Up After 34 Years
Johnny V's Main Street Grille Becomes The Main Event Bar & Grill.
Elijah Anthony, Frankfort Wrestler, Goes To State
Clinton Central Cheerleaders Place 14th in Nation in Orlando, Florida
Clinton County Lawmakers Help Override Veto to Protect Girls Sports
Record Attendance at Clinton County and 4-H Fair. Hoosierland TV Televises 14 Events from Fair.
Clinton Central Starting Alternative School
Sheets, Kirby Announce Candidacy for Mayor
Red Barn Completes 54th Season. Indiana Star Party at Camp Cullom Completes 19th Annual Event, Largest Astronomy Event in Indiana
The Farmers Bank Again Named in Top 200 Publicly Traded Community Banks
Frankfort Christmas Parade Largest In Recent History (Video Of Parade)
Clinton Prairie Boys Cross Country Team Advances to Semi-State
Hardesty Landscaping Sells to Peyton Douglas
Retiring Policeman Skinner Receives Round of Thanks
Inflation Hits Farmers, Families Hard
Two Children Die in Clinton County House Fire
Clinton County Daily News Sets New Record for One Year with Over 100,000 Users, 1,429,030 Sessions and 3,802,274 Page Views as of December 30.
Big Four Trail Dedicated in Colfax
Large New Hanger Completed at Frankfort/Clinton County Airport (KFKR). Manager Matt Hankins Leaves to State Airport Inspector Position
Indiana Ranks Number One for Infrastructure in CNBC's "Top States for Business"
Kaspar Media Holds Successful 33rd Annual Senior Fair
Gilbert Resigns as Football Coach, Teacher and Clinton Central Pays Tribute to him
Former Kirklin Resident Charged with 60 Counts Against Children
1500 Students Attend "Send Silence Packing" at Prairie Creek Park
Hispanic Heritage Festival Held at Prairie Creek Park
President of The Farmers Bank, Karen Gregerson, Announces Retirement
Clinton Prairie's Kample Qualifies for State
Christian Lindenmayer Recovers from Serious Train/Pedestrian Accident. Strong Community Support Felt by Family
Halloween With Merchants on the Square Continues Success as Event
Fair Parade, Harvard Terrace 4th of July Parade Draw Crowds and Participants
Clinton Prairie Cheerleaders Become State Champs
Kaspar Media News Director Ken Hartman Suffers Stroke and Recovers
Suspect in Multiple Bomb Threats Arrested and Held in Boone County Jail
Goodwill Opens New Store in Frankfort
Adams Mill Building in Cutler Reports Extremely Serious Foundation, Erosion, Building Maintenance Issues
Frankfort High School Holds Hall of Fame
Ribbon Cutting for CR Catering Building and Restaurant in Downtown Frankfort
United Way for Clinton County Has Good Year but Falls Short of Goal
Community Schools of Frankfort Students get "WiFi for All" Grant